Make no mistake: Ben Bernanke will be confirmed by the Senate and stay on as Federal Reserve chairman, but that's not the point.
Don't make the other mistake either: Ben Bernake is disposable even if he isn't confirmed. There are other equally qualified candidates from Vice-Chairman Donald Kohn to Princeton Economics professor Alan Blinder (and that's just the East Coast), but that's not the point either.
The Bernanke-nomination uncertainty really isn't about Bernanke. It's about the Federal Reserve and the America's growing vote of no confidence in its central bank. A market reaction to a failed renomination would be more of a reaction to the Fed's diminished authority than the loss of Bernanke.
The high level of uncertainty over Bernanke's nomination shows a lot of confidence in the Fed's ability to deliver economic stability has evaporated, thanks to the crisis it helped unleash, starting with actions undertaken by Bernanke's predecessor. And because of this, its ability to make independent, unpopular decisions in the future -- decisions it'll have to make to keep inflation under control -- has been badly compromised. The Fed could be permanently tainted by the role it played in today's mess.
If Bernanke wins a projected "yes" vote from 62 senators (the National Journal's whip count as of Tuesday early afternoon was 44 votes in support), it'll mark a new low in confidence in the central bank.
Sources: Wall Street Journal, National Journal
Previous votes were overwhelming (and a lot more forthcoming) in their support of Fed chairman -- in several cases so overwhelming the confirmation was left to a voice vote without an official tally. Not so for Bernanke, as clearly illustrated by volatility in the Bernanke-confirmation futures on Intrade.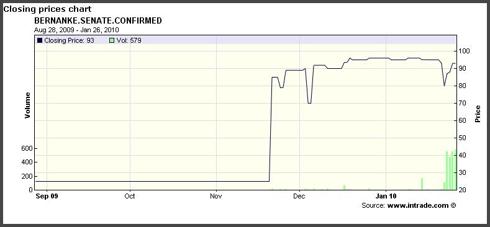 Much of Bernanke renomination drama has been glibly dismissed by commentators as political posturing and kabuki theater -- just politicians playing to the anger and anxiety of the American electorate.
Well, the fact that the public is that angry and anxious (enough for politicians of both parties to notice), that an unusual amount of this anger is being directed toward the Fed (note the rapid rise of long-time libertarian Fed critic Rep. Ron Paul), and that many politicians (including Senator John McCain) feel it necessary to play with dynamite underlines the new reality: Call it the Fed's very own "New Normal."
"Whether he's rejected or not, it shows there's a lot of displeasure," Senator Richard Shelby told Bloomberg. "There's a credibility problem here. The Fed set fire to a house and ran in with a firetruck. As a regulator, they were nonexistent [in preventing the bubble]."
With America's unemployment rate likely to stay in double-digits for some time, a bigger permanent American underclass in the making, economic growth poky and government-inflated at best, no clear signs over the horizon of any significant commitment to improve America's growth the old fashioned way (earn it by improving the business climate), D.C. more widely derided than it's been in decades, and an historically debt-heavy government that will be under ever more pressure to inflate its financial problems away, the Federal Reserve is and will be under the gun in a way it hasn't been since Paul Volcker headed the Fed through the energy crisis of the late 70's and early 80's.
Actually -- the risk is greater today. Paul Volcker had the absolute backing of then-President Ronald Reagan to do what it took to keep inflation under control (including jacking up interest rates into the double digits). The U.S. was in a better financial position back then (a debt-to-GDP ratio of 30% versus today's nearly 100%). Volcker had bigger pro-votes in the Senate than Bernanke appears likely to get. President Obama's current support notwithstanding, Bernanke can't count on that support tomorrow when political push comes to shove. President Obama no longer enjoys Reagan-sized popularity, and the President's party -- predisposed to putting short-term growth ahead of inflation control and long-term stability during the best of times -- can be expected to put more pressure on the Fed to be more loose than it would otherwise be, especially as the 2010 and 2012 elections approach.
A key measure of the Fed's credibility gap going forward -- one investors are already starting to trade on -- will be the spread between U.S. Treasuries and U.S. inflation protected Treasuries and the spread between yields on U.S. Treasuries and similarly dated German bunds, Germany being the gold standard of nationally-backed, inflation-controlling credibility. Trade that gap -- short long-dated Treasuries, go long on German bunds (follow PIMCO's lead on this one) and Inflation protected Treasuries, as well as commodity indexes and ETFs.
But not all in -- at least, not just yet. Wait for more confirmation that inflation is perking up -- especially through real time, market indexes of commodity prices. Leave room to add to those holdings as we get closer to the point the Federal Reserve will have to raise rates, but finds itself less able to, as inflation expectations and inflation itself reassert themselves. That time will be sooner rather than later, especially if growth remains lackluster and unemployment high.
Because of its underperformance (to put it mildly), the Federal Reserve, along with much of the rest of the federal government, has lost credibility and future freedom of action -- whether or not Bernanke gets his second term. The Fed's commitment to inflation fighting is already in serious doubt, no matter what happens to Bernanke.
Plan accordingly. Invest accordingly.